SD cards are the perfect way to store data; small, lightweight and they come in all different storage sizes. SD cards can be used in multiple devices, including some smartphones, tablets, cameras, computers and so on but when the one you stored all your important data on becomes damaged, what do you do? Most people would just throw it away, after spending hours trying to get the data off it but did you know that there is a way to fix them ?
Image : Fix Damaged SD Card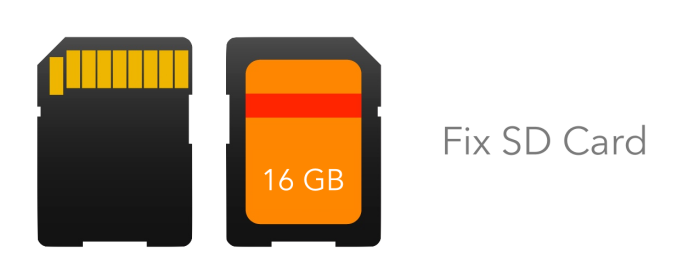 Technical damage to a card, i.e. corruption of data, happens when the card is not ejected from the device properly, through a virus, from taking the card out when files are still being processed, using the card in a camera with a low battery, etc. The card will either show as having no data on it at all or data will be lost. Using the CMD command on your computer, you can fix this problem.
How to Fix Faulty Data Card with CMD :
The first step is to put the card into the card reader slot on your computer. From there:
Click on Start and then right-click to bring up a menu
Click the Command Prompt (Admin) option and a command window will open 
At the command prompt, type in diskpart and then press Enter
Now type list disk and press Enter
You will now see a list of the disks, type select disk followed by the number that corresponds to your card, ensure the right number is typed otherwise your internal drive will need to be formatted
Now type clean and press Enter
Next, type creates partition primary and press Enter
Type Active, press Enter and then type select partition 1
Press Enter again and type format fs=fat32 or format fs=ntfs and hit Enter.
Now leave your computer, with the CMD window open, until the process has completed, about 5 minutes
When you use the CMD commands you are forcing Windows to format the damaged card. Windows will check the card file system and fix it and, in most cases, the data on the card has been successfully recovered. If not, you will need to use another piece of software.
All devices for data storage, such as the SD card, store the data in different sectors. If one of these sectors fails or becomes corrupted, the card becomes unusable. You can remove bad sectors by following the steps below:
Close all applications on your PC
Connect the card to your computer and you will see a message that says, 'Do you want to scan and fix the removable disk?'
Alternatively, after connecting the card, open This PC or My Computer
Right-click the drive for the card and then click on Properties
Now click on Tools from the options at the top of the window
Locate the Error Checking Utility and click on Check Now
Wait while the process completes, and you will see a message that tells you if there are any errors
If there are any errors, you will be given 2 options , Restart or Schedule on Next Restart. If you want the repair process to start straight away, click on Restart. While the process is carried out do not turn your PC off or try to do anything else on it
These steps should fix and recover lost data from a corrupted or damaged SD card.