Facebook is a great way to keep in touch with your friends and family, as well as keeping up with news and joining cool groups. There is one irritating feature though; Facebook stores all your phone contacts on their servers. You may not remember it but, at some point, you gave Facebook permission to do this through an opt-in feature. Luckily, there is a way that you can disable this feature and then remove all your contacts from the Facebook servers.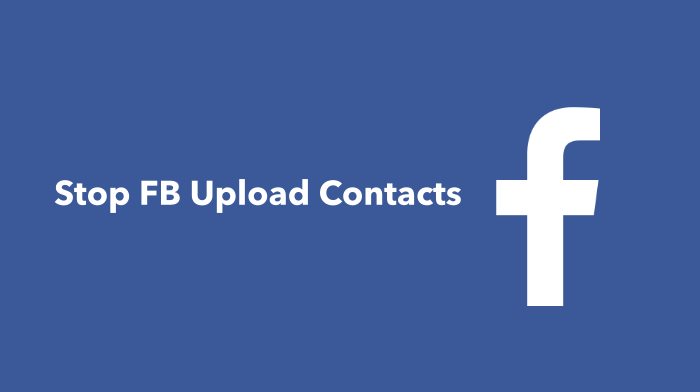 How to Remove Contacts From Facebook Servers :
We'll show you two ways to do this – one method on Android and one on the iPhone or iPad.
iOS :
On your iPhone or iPad, open the Facebook app , Tap the Menu button
Tap on Settings and Privacy
Tap on Account Settings > Tap on General
Tap on Upload Contacts and switch it to Off
That should now stop Facebook from continuously uploading your contacts onto their servers 
But what do you do about the information they already have stored ? That's simple, we just remove it. Here's how.
How to Remove Contacts Already Uploaded :
First, follow the appropriate steps above for your device
Now open your web browser on your device
Go to the Facebook Contact Management page [ ext link ]
You will see a list of all the phone contacts that have been uploaded , click on Delete All
You will be asked to confirm this, with a message warning you that, if still have Continuous Updating enabled, the contacts will simply be uploaded again. Click on Delete
Android :
On your Android device, open Facebook
On the top right of the screen is a Menu button ,tap on it
Scroll down to the bottom of the list and tap the option for Settings and Privacy
You will see another menu, tap on App Settings
Look for the option that says Continuous Contacts Upload and disable it
You should find that none of your iPhone or Android phone contacts are uploaded to Facebook ever again. One word of note; if you reside in the EU or the EEA, on May 25th the new General Data Protection Regulations come into effect and you must be asked to provide specific consent for this type of data to be uploaded – watch this space as Facebook should contact you to ask you if you still wish to be opted in to this feature.
Let us know if you run into any problems with these and follow us on Facebook for more news and updates.