Are you fed up with not being able to use some of your favorite apps on data? Some apps will only work correctly over a Wi-Fi connection, and that is so irritating. What if you wanted to make a FaceTime call while you were away from a network? What if you wanted to watch YouTube videos on your journey to work? Without a data connection that wasn't possible – until now. With an app called 3G Unrestrictor, you can get around the restrictions that Apple has in place and start using all your apps, whenever you want.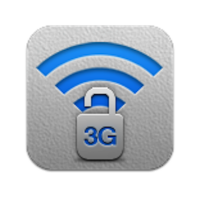 Download 3G Unrestrictor:
The catch is, you do need to have a jailbreak on your iPhone or iPad. The app won't work without it because it requires your device to be open – only jailbreaking can do that. The major benefit to jailbreaking is that you can install many useful and cool tweaks and mods onto your device, not just 3G Unrestrictor.
If you haven't installed a jailbreak yet and you want to download 3G Unrestrictor, head to our Cydia page and find the jailbreak utility for your iOS version and device. Once you have done that,  you can go ahead and get the app.
The second catch is that 3G Unrestrictor is not free, but it does only cost $0.99, a very small price to pay for the freedom you get.
Here's how to get it:
Once you have jailbroken your device, open Cydia
Go to the Search tab and look for 3G Unrestrictor
Make your payment using PayPal or Amazon
Download the app, and when it's installed, you will see it on your homepage
How to Use 3G Unrestrictor:
Tap the app icon and the configuration settings will load
Tap on Edit and then the + sign
A new screen opens; this is where you add your apps.
Add any app you want but just be aware that the only ones that will actually benefit are those that are 3G restricted.
3G Unrestrictor App Features:
3G Unrestrictor offers loads of cool features:
Enables Wi-Fi only apps to be used on a data connection
Use Facetime for making and receiving calls without a Wi-Fi connection
Watch YouTube videos in high quality and great resolutions rather than the low-quality Apple provides for data connections
Make use of iCloud backups and Photo Stream on the go
Download large apps, movies, TV shows, and more on a data connection
Make use of SBSettings toggle from Cydia to enable and disable 3G Unrestrictor as you want to
Play games online using a 3G connection
Support for all third-party apps that have the 3G restrictions
Simple to use
You get all that for the low price of $0.99
Download 3G Unrestrictor today and unlock the potential on your iPhone or iPad. For more tips like this, follow us on Facebook.