IPA Library is a third-party installer with a difference; it contains thousands of IPA files, games and apps, it's all free, and all you need to do is tap the download button for more details: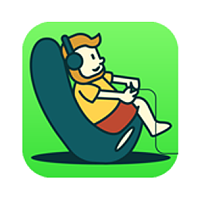 It's as simple as that
How to Download IPA Library:
Installing the app is easy; you need to choose the right configuration profile for your device, and we're going to show you how it's done:
Open Safari browser on your device and download the link above.
An IPA Library page will open, tap on Install. This gives the profile permission to be installed
Profiles open in your settings app, tap Install Profile and put in your passcode
This will open Safari again, tap on Install IPA Library and then Install on the popup window
Settings open, tap Install>Next>Done and wait.
When the new app icon shows on your homepage, the app is downloaded, and you can use it for downloading all your apps and games
IPALibrary not working? Then download other app installers like the TopStore app.
How to Use IPA Library App:
Downloading IPA Library is easy enough but using it, well that's even easier:
Look on your home screen for the app icon and tap it
Choose the category you want and tap on it
Either browse what's on offer or use the search bar to find a specific app or game
Tap the app or game you want to download and follow the on-screen instructions
When it is downloaded, the new icon will be visible on your home page and ready for you to use.
We're not quite finished
Fixing IPA Library Errors:
IPA Library is very reliable and safe, but we have been told of several common errors. We've got the answers for you on how to fix those errors right here:
This is the most common and very simple to solve. It usually arises when you are trying to download IPA Library to a device that already has it, and a conflict is caused:
Delete all instances of IPA Library from your iPhone or iPad
Restart your device and download the app again
This is because the source cannot be verified. Fixing it requires these steps:
Delete the app profile from your device
Reinstall it
Go to Settings and navigate through General to Profiles & Device Management
Tap the app certificate and trust it
Close settings, try the app again; the error will be gone
Invalid Argument Supplied
This looks more complicated than it is:
Delete the app and then reinstall it
Restart your device and go to IPA Library Settings
If there are any updates to the app install them and the app will work just fine
If you see a white/blank screen when you launch the app, follow these steps:
Go to iOS Settings and tap on Safari
Tap Clear Website Data and close settings
The app will now work properly
Profile Installation Failed Error
Usually, this happens when the servers are too busy because too many people are trying to download the app. Stop, wait an hour or two and then give it another go.
If it still doesn't work, try this:
Enable Airplane Mode on your iPhone or iPad
Open Settings > Safari and tap on Clear History & Website Data
Tap Clear History and Data
Disable Airplane Mode and wait for several minutes before trying again – the app should now install
Untrusted Enterprise Developer
This is common and appears because Apple doesn't know the developer. You need to trust the developer:
Open Settings > General > Profiles
Tap the IPA Library profile
Tap Trust, close Settings and try again.
Over to you
IPA Library is one of the best unofficial app installers; download it, tell us what you think of this appstore and follow the developers on Facebook for more updates.