The latest iOS version has got some amazing new features but, despite all the rigorous testing and the bug fixes, users are still experiencing problems after updating to the new firmware. One of the biggest complaints seems to be that cellular data is not playing ball, with some users reporting it doesn't work at all, others say that it won't work on some apps where Wi-Fi works just fine and yet others say they can't access the option to turn Cellular data on because it has been greyed out.
Image : Cellular Data Not Working Fix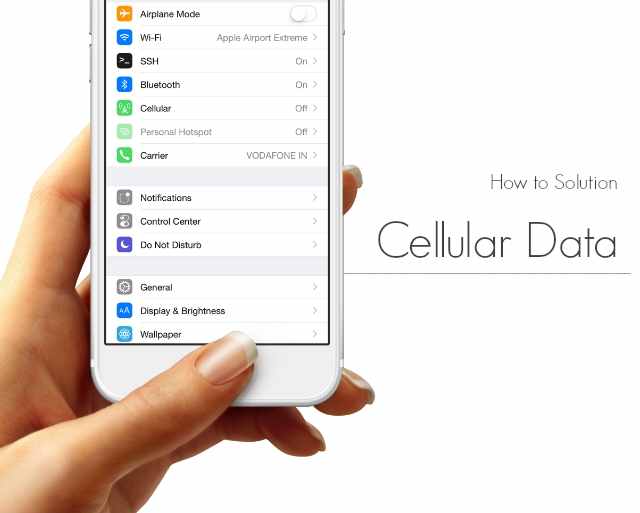 If you have been having trouble with your cellular data, take a look at these solutions below:
Enable Cellular Data :
Some people can't do this because they can't access the option but for those who can, just check that you have actually enabled cellular data. TO do this:
Open Settings 
Tap on Cellular and make sure that you have toggled Cellular data to On
Near the bottom of the same screen you can check to make sure that the apps you need cellar data for are toggled to On
Reset your Network Settings :
If the above does not apply to you or you have done it and data still isn't working, you must reset your network settings. Be aware that you will need to re-enter your Wi-Fi and cellar settings again afterwards
Open Settings > General > Reset 
Choose Reset Network Settings from the options and put in your passcode when asked to 
Exit out of the Settings to your Home screen
Switch off your device using the Power button 
Wait a few seconds and then switch it back on again
Try your cellular data again, it should work. If not, move on to the next step.
Carrier Updates :
Sometimes, your carrier will issue an update to make sure that everything is compatible with their network. To see if there is one waiting for you:
Open Settings > General > About
If you see a message telling you there is an update, install it
If necessary, reboot your device and try your cellular data again.
Update to the Latest iOS Firmware :
Apple doesn't just issue a major update and then leave it. Instead, regular smaller updates will be issued to fix known problems. Make sure you are running the latest version of the iOS  firmware and then try using cellular data again
Factory Reset :
This might seem like a pretty drastic solution but it has worked for some people
Connect your device to your computer
Open iTunes
Perform a backup of your data through iTunes
On your iOS device, open Setting > General > Reset > Reset all Content and Settings
Once the factory reset has been done, reinstall OS 10 from scratch.
You should find that any issues with cellular data are now gone
Downgrade :
In extreme circumstances, if nothing else has worked, you might need to downgrade to a more stable version of the iOS firmware, one that didn't have these problems. It will then be a case of waiting until Apple releases the update that fixes the problem before you can upgrade again.
For more tutorials and tips, subscribe to our newsletter and follow us on Facebook.
Also Read in
| | |
| --- | --- |
| Français | |